GRAPEFRUIT HOPS KOMBUCHA, 10X350ML, ORGANIC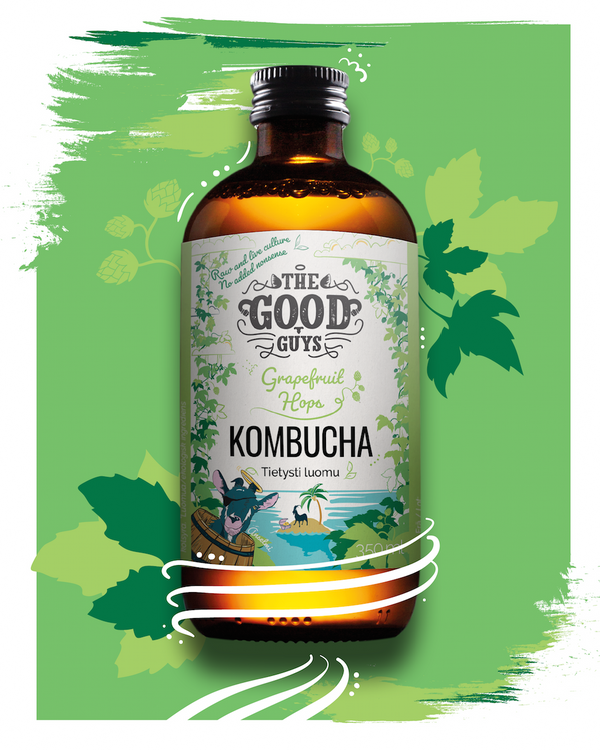 Grapefruit Hops is an exciting combination of pink grapefruit, hops and crisp kombucha. Dry hopped organic Cascade and Pacific Gem bring floral notes while pink grapefruit adds light citrusy flavours. This kombucha is a great alternative to alcoholic beers.

We donate 2,5 cents from every sold bottle to Tuulispää Animal Sanctuary. Tuulispää is a retirement home and rescue shelter for farm animals. See that goat on the bottle? That's Anselmi, one of The Good Guys' sponsor animals in Tuulispää.

Price of the box includes 0,10 € glass bottle deposit for each bottle.

DELIVERY
Kombucha is delivered in ambient temperature. Generally delivery times are quick enough to avoid adverse effects on kombucha quality. Any orders for kombucha placed at the end of the week will be shipped at the beginning of the upcoming week. This way we can ensure the bottles don't spend too long out of a fridge. Please collect your order fast and keep kombucha refrigerated to avoid possible re-fermentation in the bottles.
ABOUT THE GOOD GUYS KOMBUCHA
The Good Guys kombucha is brewed with the finest tea grades and ingredients. Our glass bottle kombucha must be kept in the fridge(+2...+6). At room temperature the yeast may start to re-ferment resulting in a fizzy mess upon opening the bottle.
We live by the "No Added Nonsense"principle. In our kombucha you will not encounter preservatives, colorants, or additives. This is how we maintain our kombucha as natural as possible. Life is unique and that applies to kombucha too. There are no two identical batches of kombucha, so slight changes in flavour and carbonation level are to be expected.
Store refrigerated.
Ingredients:
Kombucha (filtered water, beet sugar*, green tea*, black tea*, kombucha culture*), hops*, pink grapefruit*, carbon dioxide.
*organic
Nutrition Facts per 100ml portion:
Calories 18, Fat <0.1g of which saturated fat <0.1g, Carbohydrate 4.5g of which sugars 4.5g, Protein 0g, Salt 0g, Caffeine <8,6mg.