Booch Box Special Edition, 10 x 350ml selection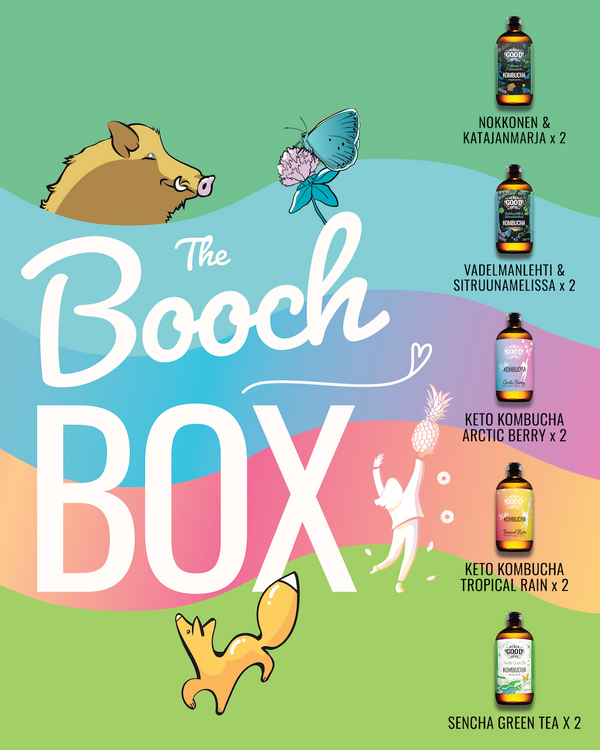 The updated Special Edition Booch Box is a selection of our carefully created flavour combinations and some delicious new kombucha.

Included in this enticing selection box:
2 bottles of Keto Kombucha Arctic Berry - A ketogenic lingonberry & hibiscus kombucha (1,5 g of sugar / 100 ml)
2 bottles of Keto Kombucha Tropical Rain - A ketogenic pineapple & mint kombucha (1,7 g of sugar / 100 ml)
2 bottles of Nettle & Juniper Berry - A naturally caffeine free herbal kombucha
2 bottles of Nordic Herbs - A harmonious blend of raspberry leaf & lemon balm, naturally caffeine free
2 bottles of Sencha Green Tea - Smooth and mellow, resembles sweet apple cider.

Price includes 0,10 € glass bottle deposit.

ABOUT THE GOOD GUYS KOMBUCHA
The Good Guys kombucha is brewed with the finest tea grades and ingredients. Our glass bottle kombucha must be kept in the fridge(+2...+6). At room temperature the yeast may start to re-ferment resulting in a fizzy mess upon opening the bottle.
We live by the "No Added Nonsense"principle. In our kombucha you will not encounter preservatives, colorants, or additives. This is how we maintain our kombucha as natural as possible. Life is unique and that applies to kombucha too. There are no two identical batches of kombucha, so slight changes in flavour and carbonation level are to be expected.
Store refrigerated.
DELIVERY
Kombucha is delivered in ambient temperature. Generally delivery times are quick enough to avoid adverse effects on kombucha quality. Any orders for kombucha placed at the end of the week will be shipped at the beginning of the upcoming week. This way we can ensure the bottles don't spend too long out of a fridge. Please collect your order fast and keep kombucha refrigerated to avoid possible re-fermentation in the bottles.