Magical Mango Kombucha 24 x 330 ml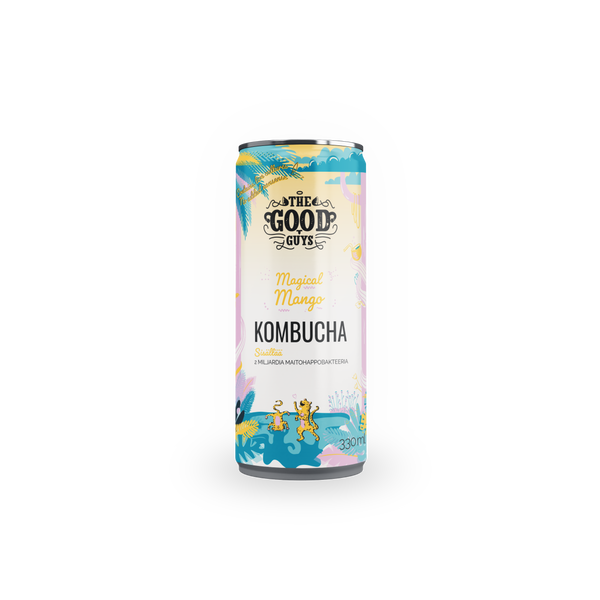 The tropical flavour bursting with mango and balanced with passion fruit. Magical Mango delivers island vibes in a bottle. To top if off, your wellbeing is looked after by 2 billion living probiotics eager to make you smile from within.
Price includes can deposit 0,15€ / can.
ABOUT THE GOOD GUYS KOMBUCHA
The Good Guys kombucha is brewed with the finest tea grades and ingredients. The Good Guys kombucha in cans is shelf stable as the yeasts have been removed with gentle heat treatment. Every can has 2 billion living probiotics ready to make you feel good inside.
Store in room temperature. Enjoy chilled.
Ingredients: Kombucha (filtered water, beet sugar*, green tea*, black tea*, kombucha culture* ), mango*, passion fruit*, Bacillus Coagulans - probiotic, carbon dioxide. *Certified organic
Nutritional content 100 ml:
Energy 19 kcal/78kJ
Fat < 0,1 g
of which saturated < 0,1 g
Carbohydrates 4,7 g
of which sugars 4,7 g
Protein 0 g
Salt 0 g
Caffeine < 8,6 mg
Alcohol content < 0,5 %