Find out more about matcha:
• What is matcha?
• Different grades of matcha
• Is matcha healthy?
• Preparing matcha at home
What is matcha?
Matcha is the cornerstone of Japanese tea culture and a key component of the Buddhist Monks ceremonies. The tradition of using matcha dates back hundreds of years and while it still maintains its position in the traditional tea culture, it has also gained popularity in the everyday lives of people around the world.  

Shaded tea growing
The tea leaves used for our matcha are harvested in May. Before harvesting, the bushes are covered from direct sunlight for three weeks. During this shaded period, the chlorophyll production increases in the young tea leaves which gives matcha its beautiful jade green colour.
Shading the tea plants also increases the production of L-theanine which is a property in matcha that improves the ability to focus and keep a calm mind. Shaded tea growing is also used in the production of Gyokuro and Kabusencha.
Grinding of the leaves
After harvesting, the tea leaves are steamed and separated from the stem. The flakes are then ground into a fine powder using stone mills. In order to preserve the subtle characteristics of matcha, the stone mills move very slowly. Only 40 grams of matcha powder is produced per hour in one mill. 
The tradition of using stone mills for grinding matcha originates back to 12th century Japan. This production method signifies the difference between genuine matcha and other ground tea products. 
Different grades of matcha
Ceremonial grade
• Perfect for a simply brilliant matcha tea • Bright green in colour • Smooth and delicate, grassy flavour
Culinary grade
• Suitable for cooking, smoothies and lattes • Toned down green colour • Has a grassy and bitter flavour
The growing region and the harvesting season impacts the quality of matcha
GROWING REGION
There are three regions in Japan that produce matcha: Kyoto, Shizuoka and Aichi. Specifically, City of Uiji in Kyoto and Nishio in Aichi are considered the most famous regions for matcha. 
Although the notion of matcha is generally a powdered green tea from Japan, there are other producers that sell a tea product with the same name. Matcha from China is distinguishable from the Japanese matcha by its more affordable price and darker colour. Some Chinese matcha products can be surprisingly nice, but they are hardly comparable with the Japanese matcha that has been made in a traditional way. 
HARVESTING SEASON
The first harvest in the spring offers the best tasting leaves and the most intense colours. Ceremonial grade of matcha is harvested in May which is the first harvest of the year. The second and the third harvest offer culinary grade matcha.
Is matcha healthy?
Tea made from the leaves of Camellia sinsenis plant has high amounts of polyphenol compounds and antioxidants. The wonderful thing about matcha is that you consume whole ground leaves when drinking the tea. This way the full benefit of the plant can be reached. 
Camellia sinensis has for example these compounds: 
• Polyphenol compounds such as EGCG. Research shows that it has positive impacts on cardiovascular and metabolic. Green tea has the highest level of EGCG compared to other tea varieties.  [1] However, matcha has lower EGCG level compared to traditional green tea. This is due to the shaded growing, which slows down the process of l-theanine turning into catechin. But then again, since someone drinking matcha will consume the whole ground leaves, they will also consume more EGCG and other catechin compared to someone drinking a cup of green tea. [2]
• Caffeine, which is known to improve level of alertness. Matcha has higher levels of caffeine than traditional green tea. [3]
• Amino acids such as L-theanine. It has been reported to have calming and synergistic influences when accompanied with caffeine. [4] It is considered that matcha has higher levels of L-theanine compared to green tea. [2]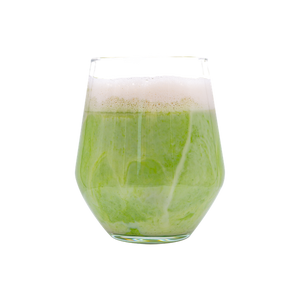 Preparing matcha at home
1. Sieve approximately 1 teaspoon of matcha powder into a matcha bowl. Sieving ensures a silky smooth drink. 
2. Add 70ml of hot water (80°C)
3. Use a bamboo whisk to mix for 15 seconds. Mix using an M-shaped pattern instead of a circular one. 
4. The tea is ready when it has a fresh green colour, it's smooth throughout and has a little foam on top. 
5. Enjoy. 
If you prefer a matcha latte, add 250ml of hot oat milk instead of water.